On a flight back to Trinidad I had an idea to design a local alphabet. Instead of doing it on my own, I reached out to 4 other designers to see if they were interested in collaborating with me and they said yes. Then the files stayed on my computer for 4 years.

Finally introducing
Our Alphabet
: a 2018 collaborative design project among Trinbagonian graphic designers.
Each designer chose their letters and Trini word and designed their respective postcards. On the back of each postcard is the definition of the word, edited by
Tracy Assing
.
Agyei is an interdisciplinary designer focused on fonts, products, technology, and the ways in which they can help drive positive change. Over the past 13 years, his work has taken the form of brand identities, websites, fonts, lettering, editorial designs, and creative concepts. His work has helped the Government of Trinidad and Tobago, the Government of St. Kitts & Nevis, Beston Consulting, and Google, among others. Agyei is also Trinidad's first typeface designer, who uses his experience in brand and product to help create better bespoke typefaces and lettering for ambitious global brands. In Trinidad, he runs the Public Good Studio, an award-winning Caribbean product studio with a people-first approach. 
Nicholas Huggins is an Artist and Creative Director from Trinidad & Tobago. He is the founder of
Backyard Design Co.
, a full service, award winning creative agency. He has worked with a range of clients including Google, McDonald's, Republic Bank ltd., HADCO, Johnnie Walker, Kes the Band, Angostura, Nestle, Digicel, bMobile, NGC, The Maritime Financial Group, CGA, Caribbean Roasters, Sissons Paint, bpTT, Tru Valu and many more.
Sean has been a professional Trinbago Creative for almost 20 years, having worked in the local advertising scene for the majority of this time. Currently he is the Creative Director and co-founder for his own specialised agency, Market Movers Design (est. 2018), which focuses on nourishing our Caribbean Food Business landscape through branding, packaging design, export compliance and business development services for SMSEs and larger organisations . His passion for food, music and of course design has converged into a delicious menu of creativity with a unique style and storytelling that delights each of his clients and collaborators.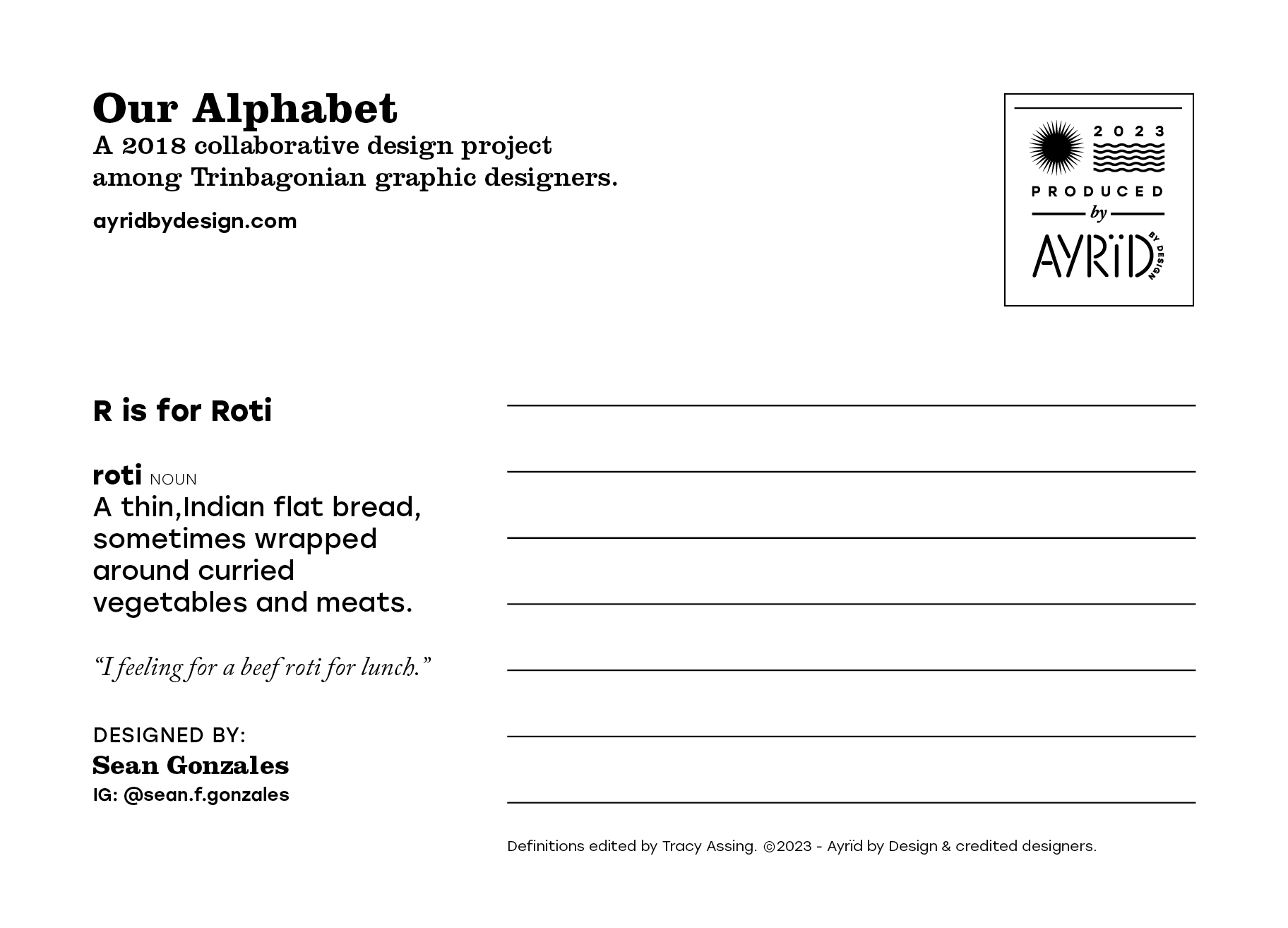 Zarna (she/her) is an independent Art Director, Curator and Writer from Trinidad and Tobago. The unique mêlée of her Caribbean heritage and academic background inform her sensibilities in art direction and a global perspective of culture. In her research/writing practice, she is especially drawn to orality and (de)colonial practices of history-making. She is also an alumni of the Royal College of Art (2023). 
Ayrïd is a solopreneur, graphic designer, creative director, part-time lecturer, aspiring writer, and ever curious student of life. She runs a one-woman studio called Ayrïd by Design in Port of Spain, Trinidad. Her design niche is branding. Apart from creating new brands, she also really enjoys working with existing brands to not only meet their direct requests, but more so, to help them understand fully what is needed and why good design is important in communicating their vision to their stakeholders. Ayrïd is also part-time lecturer at the University of the West Indies, St Augustine, teaches online courses and she produces a line of greeting cards called ​Trini Lyrics​, a local spin on the traditional gift card. Otherwise, she is at home playing with her adopted dog, George.